It is a new year and time for both photo projects I participated in last year to start again...the one that was every week has modified to only be once a month and won't be using the Flickr group anymore but otherwise they are both the same.
MCP Project 12 is the one that used to be weekly and has changed to be monthy.
This is a link to the post
you can sign up with and you can upload pics on their blog rather than using the Flickr group like last year. I will probably use my blog as my hosting location for this one.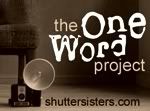 Shutter Sister's One Word Project is the second one. This one has always been a monthly themed project and it continues to be. They will also continue to use the Flickr group for their hosting which is fine with me...I almost always make a post from my image for the month either way so it doesn't necessarily matter where the image is hosted at. The theme for January is your own word...a word that signifies something for you and you can post your word and
your intention to participate on this post
.
I am excited to start taking some shots and getting some ideas brewing in my head for both of these projects.
________________________
Three Years Ago on In My Words...
Futenma Shrine Visit
I am bummed that I can't do this this year, but am excited that a couple of my friends are going and plan to help me out with some new stuff!!